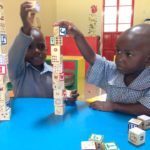 Sister Freda is all heart. Any volunteer who works with her expresses how fortunate he/she is to have worked alongside someone so utterly immersed in service. But while most of what we talk about regarding the Sister Freda Foundation has to do with the copious medical services and facilities she provides to thousands in Kitale, Kenya, and the Kipsango slums, today we wanted to share some happy updates on the Foundation's Richard Robinson Child Care Centre (RRCCC) – a program that was initially setup as a breakfast teaching program for 130 young children by Richard (Sister Freda's late husband) many years ago. When the program first started, most children of the Kipsongo slums had little food and no form of early childhood education. Wonderful Richard has since passed away, but his dedicated wife continues to support her late husband's project with the many other projects she has established on their beautiful land.
Paperwork and planning for the RRCCC have been in the works for many years, but in the last 3 years the new building has taken shape and is nearly ready to open its doors to smiling, eager young faces. The center as it stands today is the vision of Village Volunteers' alumni Dr. Alan Riley who has with deep dedication raised funds as well as spirits of everyone involved in the project over the past 3 years. The team also included architectural designer Kurt Beckman who worked closely with Alan's concept to help envision the RRCCC. Execution of this vision was made possible thanks to Mr. Gitonga, an engineer in Nairobi, who diligently visited the site for inspection, gave onsite advice, and made sure that all donations were accounted for and all material prices were kept under budget. The project was built in phases with the donations from several generous supporters.
The beautiful school has three classrooms built around an open courtyard of gardens. In the front entrance, there is a connected wing with an open entrance that will act as a reception area as well as security. There is a staff room and an administration office. The second wing has a children's resource center and a nursing inspection sickroom. There are showers and toilets as well as a kitchen that are all connected at the sides of the buildings. A children's toilet is within a 2-minute walking distance for the girls and boys. The entrance and sides have designed steel doors for security while keeping it open to light and vision. The back of the school will eventually have a playground and hopefully a rainwater collection cistern.
One of the three classrooms will be a model classroom that will be set up in a similar way to a child center play-based program. It is bright and open, has tiled flooring, sky lights, electrical outlets on each wall, reed ceilings, white boards, brightly colored walls (yellow, green, blue and fire red ) furniture with rounded, horse shoe, rectangle tables shapes, art easels, cubbies, locally woven sitting mats, and small chairs. And everything in the room is made locally in Kitale!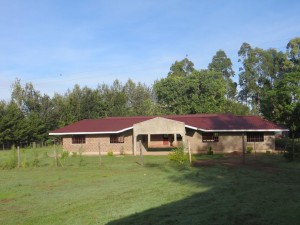 The curriculum will be interactive, child-centered, with thematic-base programs. This will be a lovely departure from children sitting on chairs all day long. The teachers will have in-service training to this teaching approach. Alan has been working closely with a local educational official and has been instrumental in getting the teaching process. Being headmaster of a child care center in Singapore, Alan has also provided over 250 donated school uniforms. The school will start with the first Nursery classroom next year and continue on to the next classrooms as they move up to K1 and K2.
While it is weeks away from opening its gates, the Richard Robinson Child Care Center still needs support from caring individuals who feel passionately for the provision of early care and education for all children, particularly from marginalized communities. This is also a thrilling volunteer opportunity for preschool teachers and teachers in training to be involved in teacher training, curriculum development, school administration and board development, and in general – helping in the establishment of a spectacular early learning school in the heart of Africa.