LENANA GIRLS HIGH SCHOOL DAUGHTERS OF CHARITY.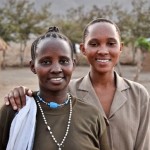 Lenana Girls High School Daughters of Charity is an organization developed by the girls at Lenana Girls High School for girls in high school and beyond. The organization started in 2014 with the aim of opening more doors for underprivileged young African women to attain secondary education.
The primary objectives of Daughters of Charity include:
To improve school attendance among girls between the ages of 10 and 18 years in both primary and secondary schools;
To increase access to 10,000 vulnerable adolescent girls with sanitary pads and comprehensive menstrual hygiene management knowledge and risk awareness of
HIV&AIDS among in-school and out of school girls between the ages 10 to 18 years;
To increase the self-esteem of needy girls between ages 10 to 18 years;
To improve economic status for out of young women between 18-30 years and to document lessons learned and scale-up options documented;
To increase the number of girls acquiring secondary education and entrepreneurship skills at Lenana Girls High School from 56 to over 600 girls. 
The organization has project components namely:
1. Leadership Development  – Rooted in the belief that transformative leadership can be cultivated through service to others, our programs aims at equipping girls with the internal resources, personal support and experiential learning necessary to lead.
2. Financial Investment- One of the greatest barriers to quality education and implementation of innovative ideas from budding young leaders is a lack of financial resources. Daughters of Charity donate funds from their pocket money to offer high school scholarships to girls aged 13-19 years.
3. Skills Training – In building a pipeline of diverse leaders prepared to step into all sectors, we provide exposure and training in skills relevant in the 21st century. Through workshops and skills-based mentorship, girls develop as career ready social entrepreneurs.
4. Mentorship – By providing opportunities for girls and young women to connect with each other and across generations, we are building a community and a pipeline of women who support each other.
To Support the Daughters of Charity with supplies and outreach to other schools: Donate to Common Ground for Africa with Lenana in the memo line.