This post is written by an iron-willed young woman who refused to let go of her dream of getting an education. Anne Barbara Simiyu is currently a student at the extraordinary Lenana Girls' High School in Kitale, Kenya, run by our partnering organization Common Ground for Africa (CGA). In a boarding school like Lenana Girls' HS, girls are safe from early marriages and female genital mutilation. CGA is working hard to provide relevant education and security to those in need, helping bridge the gap between school and work. Currently, there are nearly 50 vulnerable girls who not only get a quality skills-based education but a clean bedding, fresh towels and hot meals every single day. Anne, thank you for sharing your powerful story with the Village Volunteers community!
---
By Anne Barbara Simiyu
I was born on 29th November 1999 to Wafula's family. I am the first born in a family of six and I grew up in a village where many girls struggle hard to make a better life for themselves. When I was five years old, my parents separated (I think it was because my father drank too much) and my life changed greatly after the divorce. After my mother left, life became miserable and unbearable, without hope of going to school. We had to move to our grandparents' home. Life at grandpas was very hard as we all depended on the little that was raised on their farm. My father became an alcoholic, he was always drunk and abusive. Knowing this, I continued to appreciate myself despite knowing that I have no parents who could send me to school.
Time went by … … I envied and admired other girls who went to school and came back home carrying their books, and I wished I was like them. Two years later, I gained courage and I told my grandparents that I was meant to go to school. And so I started nursery school very late, but I kept believing that one day I will make life better. Sometimes I was harassed by peers who said that I was a poor child, that I didn't deserve anything in life. But I was not alone in being poor and desperate. Other girls in our villages who were the same as I ended up working as maids before ever being able to achieve their dreams and goals. Life was a struggle. Going to a public school, teachers often sent me home to bring the school fees. When I failed to bring the fee, I ended up staying at home. It was an unimaginable and unbelievable hardship that I will always remember.
The most devastating thing was that I was being mistreated by my drunkard father. I would wake up at dawn to work before going to school. I walked about six kilometers barefoot to school and sometimes went without food. I was only barely surviving.  Five years went by and I was in standard five. Life got more difficult because sometimes my drunkard father would abuse me, saying I needed to marry a rich man near our home. His words hurt me very much. I prayed to God to give me the strength to face this. I was lucky that my grandfather stood by me all the times. Those days the thoughts of lacking parental care used to flood my mind.
Life continued being hard, but I did not give up. Years went by and by 2013, I was in grade 8. I took my first exam of Kenya Certificate of Primary School (K.C.P.E.). After a few months, the results were out and I was as happy as a newlywed bride and groom to see the results. I had passed very well and it was an unbelievable thing. With a mean grade of B+, I was so elated that I pushed aside the problems that I was going through. With a good score, I received an admission letter from Butere Girls High School, but again school fees became a problem. I was about to give up when a church member told my grandfather about Lenana Girl's High School. My heart pumped very hard and I was told that I was supposed to go for an interview.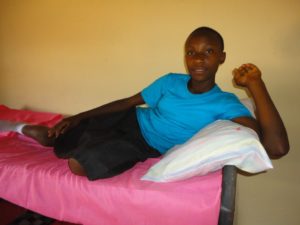 And now I am here at Lenana Girls High School where my life has changed. I have hope for an education. It has influenced my life positively, and it will continue until I complete my studies. I hope to have a precious and prosperous life. I look forward to when this dream becomes a reality. My fear is not that I am inadequate. My realization is that I am strong.